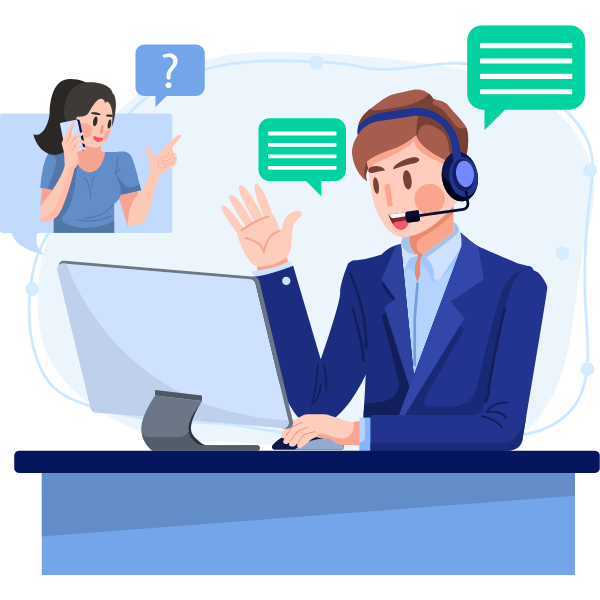 Welcome to Innovation
-Next2call
Next2call is a leading developer of software solutions for call centres. We are delighted to offer our partners and customers from the Asia Pacific region a complete solution, designed for the automation of call centres. For over 06 years, Next2call has been providing excellent service to its customers and partners. We also provide technical support 24/7 including consulting services. Together with our partners (Tata Telecommunications and Jio), we have been a big hit so far, successfully handling many big projects. Next2call is a leading software provider for the automation of in-house and outsourced call centres. Since its inception in 2007, Next2call has grown into a really big corporation streamlining thousands of call centres at home and abroad. Our operation is expanded all over India including other regions of Central Asia as well. Next2Call's only mission is to work hard for the modernisation and advancement of the way call centres operate across nations. In other words, our ultimate goal is to streamline call centres. We started off with this vision in mind as a group of experts years ago at the time of inception. And obviously, Next2Call isn't done yet as it plans to expand its business to other countries as well in the coming years.
● 07 years of providing various call centres and other businesses with excellent software solutions
● Successful completion of more than 100 projects in Eastern Europe and Central Asia countries.
● Collaboration with more than 20 partners in different cities across Russia, Eastern Europe and Central Asia.
Primary Focus on

- Customer Satisfaction
Next2Call primarily focuses on its customers' total satisfaction. Our experts are always available to help. At Next2Call, we provide 24/7 technical support. Expert Consultation is something that you need at a bad time when you are stuck and don't know how to proceed next. During such times, just connect with us, using either our live chat support or helpline. We care and thus understand the value of your time. So, always choose Next2Call for all sorts of call centre solutions, problems or requirements.
Discuss Problems with Us and Get the Best

SOLUTION
At Next2call, We have experts at the customer support facility who are 24/7 available to provide help on all your burning issues. Get ready for the Best Experience. Either Call at +91-9599406553 or get in touch through Live Chat.
● Server Support
● Database Support
● Infrastructure Application
● Network Support
● Platform Support
● Firewall Support
● Perimeter Security Support
● On-Site Support
● IT Consulting
● Transition Support
● System design
● Architecture planning
Next
2

Call
Our Methadology

● Trained professionals to manage your IT.
● 24x7 monitoring and management.
● Guaranteed response time.
● Remote/Onsite Support.
● Expert on call.
● Automating routine tasks (thus lowering cost and errors).
● After office hours support.
Network Operation Centers

● 50 Seats NOC/SOC.
● 24x7 ITIL Operations.
● Network Management System.
● Certified Security Engineers.
● Support Desk.

● Physical/Biometric parameter Security.
● Business Continuity Planning in place.
● Disaster Recovery in place.
Infrastructure Support
● Server Support.
● Database Support.
● Infrastructure Application Support.
● Network Support.
● Platform Support.

● Firewall Support.
● Perimeter Security Support.
● On-Site Support.
● IT Consulting.
● Transition Support.
● System design and Architecture planning.
● Other Services
Infrastructure Base-lining.
● Desktop Support.
● Remote Server Management (wintel).
● Remote Network Management.
● Remote Security Management.

● Onsite Support.
● Remote Monitoring.
Read more