Contact Us For Free Quote!
Call Us : +91-9650866007
---
IVR System
Interactive voice response (IVR) is a technology that permits a computer system to interact with humans, with DTMF tones input from a connected phone calls keypad. IVR system is today a basic need for handling large call volumes or filter out calls to be sent to the right departments in a contact centre. With TTS (Text to Speech) enabled features, today IVRs can dynamically interact with humans, following inputs from their phones keypads. IVRs are largely used to direct calls to right departments, select preferred languages before interacting with a contact centre agent, book orders following a predefined menu.
We Support
●Server Support
●Database Support
●Infrastructure Application
●Network Support
●Platform Support
●Firewall Support
●Perimeter Security Support
●On-Site Support
●IT Consulting
●Transition Support
●System design
●Architecture planning
---
Next2Call IVR Solution
Next2Call brings you IVR solution that will enable you to interact with your customers with a customizable pre-recorded voice. It lets you decide what your clients listen to when they call you. It also helps in the management of the call-flow by providing two variations of the IVR System
Single-Level IVR system
This IVR system is best-fitted to organizations that are giving single-digit menu options to their customers. This will provide you with a single layer of the menu where you can give many offers or information to your customers or can connect them to the right agent
Multi-Level IVR system
If you're having offerings in double-digit that you want to give to your customer via call then Multi-Level IVR is the right choice for you. This will provide you multi-layer of menu options that will enable you to guide your caller to the right information or the right agent
How IVR Solution can be Useful to my business?
❏ Able to gather valuable feedback from customers
❏ Convey customizable greetings to your customers
❏ Can provide support to customers post-office hours calls effectively
❏ Able to engage with callers in their preferred language
❏ Able to direct callers to the right agent based on their queries and inputs
❏ Able to handle high call volumes at peak hours
❏ Provide call-interaction information like the number of connected calls, missed calls, abandoned calls, etc
❏ Able to connect one particular customer to its previous agent for better customer experience.
Advantages
❏ Enhanced Call Management: Drive calls to right agents effectively resulting in better call management
❏ 24*7 Support: Provide customer support even after office hours
❏ Analytics and Reports: Gain valuable reports and feedback for better customer experience
❏ Flexible: Design multiple call-flows and menu options easily via drag and drop dashboard
❏ Customer Retention: Our solution will be engaged to the customers in their preferred mode letting your customers have the best service experience
IVRS AND CALL FORWARDING SERVICES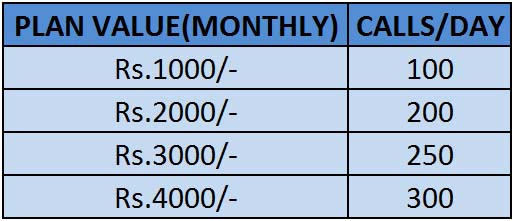 Configure 10 forwarding numbers
One time setup charges including recording Rs. 4000/-
Virtual No. Rs. 500/- monthly
Features
●Prefer drag and drop functionality without requiring extensive programming projects cost
●ODBC and other industry standard databases compliant
●Flexibility of creating call flows and business flows which offers complete flexibility over the business processes and automation policies implementation
●Intelligent call routing based upon skills, priority, and service level
●Completely automated information retrieval and delivery through multiple medias and channels
●Advanced networked enterprise voice mail system
●Touch tone or rotary control
●Play multiple message with menu prompts for greetings, announcements,text-to-speech, advertising, speech recognition.
Benefits
●Automate operations Facility
●Configure call flows using Intuitive IVR Designer
●Interface with third-party databases
●Cut back wait time
●Obtain real time and updated information
●Scale up operations effortlessly
●Manage voice recording with ease
●Improve productivity with comprehensive reports
---
Primary Focus on - Customer Satisfaction
Next 2 Call primarily focus on its customer's satisfaction. Expert Consultants is something you need in a bad time when you get stuck helplessly or looking for process expansion or re-engineering. We care and understand the value of your time. Our expert teams will help you come out of your Call Center problems or new requisitions.
Speak Up your Problem ! We have the SOLUTION
At Next 2 Call, We have expert teams who are ready to provide you help on all burning issues you are facing. Get ready for the Best Experience. Call at: +91-9650866007 or get in touch with us at Contact Us